Discount Venetian Blinds Measured & Fitted
Banished to the past are Venetian Blinds with white, heavy box headrails and clunky gears. All of our venetians are produced in slimline 25mm headrail and slat providing an unobtrusive and neat look that competitors usually demand a premium for. Both the headrail and bottomrail are co-ordinated with the slat itself as are the coloured ladders and cord. Operation is with cord raise/lower and wand slat tilt.
Made to measure to fit your window we have a fantastic choice of slats in hundreds of colours and textures. Withing the range we have wood effect aluminium which gives the aesthetic benefits of real wood without the associated problems of warpage and unit weight. The complete selection is offered at one low deal price, we do no have multiple price ranges. We even offer the choice of Perfect Fit Frame at no additional charge for UPVC windows.
All of our venetian blind deals are offered with generous size restrictions which prove more than enough to provide for above average size windows, fitting is included on every blind that we measure. No hidden charges or over restrictive conditions that you tend to find with this type of deal marketing. The whole concept of Blind Deals is to provide you with the cheapest possible means of purchasing made to measure venetian blinds without compromise of product quality or personal service. Bargains based on volume and not gimmick.
Best Venetian Blind Deals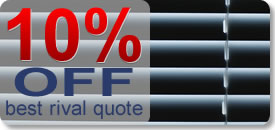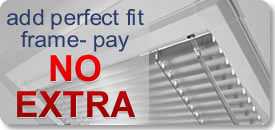 We are constantly updating our venetian blind deals packages, incorporating new ideas and extending the slat range to suit current trend and Cutomer requirements. We are so confident that you will not obtain a better deal elsewhere that we throwing down the challenge that if you obtain a better, like for like, written venetian blind quote from one of our competitors we guarantee to shave 10% off their price. All you need to do is provide your local advisor with the written proof and details of the quote when they visit.