Discount Roller Blinds Measured & Fitted
Blind Deals Roller Blinds are made to measure specific to your individual requirements, we do not offer ready made or inferior quality products. Roller hardware is a solid 32mm aluminium tube that remains rigid even for widths up to 3 metres without any sag. Incorporating a chain operated sidewind mechanism for precise height control available in white or dark brown as standard. Spring mechanism, although now the more traditional method of operation, is still available at no extra cost. Lathe pocket is sewn, not glued, and the lathe is enclosed so you do not have the white bar on show.
Roller fabrics come in a huge choice of prints, patterns and inherent qualities but whichever one you choose we insist that you only pay a single low price across the whole range of some 250+ fabrics. Included in our deal range we have anything from voile to blackout, plain to pattern, texture to print infact something for everyone and all situations. On top of this we have a host of braids and finishes that give unlimited options.
All of our roller blind deals are offered with generous size restrictions which prove more than enough to provide for above average size windows, fitting is included on every blind that we measure. No hidden charges or over restrictive conditions that you tend to find with this type of deal marketing. The whole concept of Blind Deals is to provide you with the cheapest possible means of purchasing made to measure roller blinds without compromise of product quality or personal service. Bargains based on volume and not gimmick.
Best Roller Blind Deals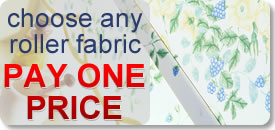 We are constantly updating our roller blind deals packages, incorporating new ideas and extending the fabric range to suit Cutomer requirements. Our latest deal is the new Perfect Fit Roller specific for the UPVC window which eliminates the need for holes and screws, at no extra charge! We are so confident that you will not obtain a better deal elsewhere that we are throwing down the challenge that if you obtain a better, like for like, written quote from one of our competitors we guarantee to shave 10% off their price. All you need to do is provide your local advisor with the written proof and details of the quote when they visit.